Fourteen years dead and still rocking! The tag line tells you everything you need to know about this show. Vampires Rock penned by the creative genius Mr Steve Steinman, a local lad from Nottingham. Who spent years working as a chef before going on Stars in Their Eyes as Meatloaf. Creating a career touring with The Meatloaf Story, long before launching his own original show in 2004 (Vampires Rock). Which has under gone several transformations over the years. Including bringing in the amazing Toyah as the Baron's wife and Eddie Ojeda as another vampire lord before the reissue in 2015 as Ghost Train.
The storyline???
In the year 2030 in little old New York City, Baron Von Rockula owns the Live and Let Die Club, rocking out with his vampire band. The Baron is lonely, he has lost the love of his life. He searches for a new bride and lead singer for the band. Enter Pandora, a sweet innocent young girl who's idea of good music is the Carpenters. Before the Baron seduces her over to the dark side, so he can be with her for all eternity.
However eternity doesn't last forever.
Years have passed, Pandora is dead. Killed tragically. The band is on the run, the club no longer exists. They have found an old abandoned ghost train ride to start to rebuild a life. Bossley (the handyman) is rebuilding everything, so they can have an opening night. Search for another young lover for the Baron.
Enter Roxy, a young girl descended from Pandora. The Baron falls fast, trying to win her heart just as he had Pandora's all those years ago. However Roxy has her eyes on the dashing Van Halensing. A vampire hunter who wants to end the Baron's band forever. Will the Baron win her heart? Or will the vampire hunter have his way?
What is this show like?
It's a mixture between The Rocky Horror Picture Show, Rock of Ages and Dracula all mixed into one. It is a cult classic in the making. Witty one-liners, crowd shout-outs, jokes that you know are coming but you still laugh at every single time. A mixture of rehearsed permitted adlibs and the random ones they think up on stage to try and throw each other off. A real mixture of all the best of classic soft rock, from Queen, to Meatloaf, Acdc, Guns and Roses, White snake and Bonnie Tyler to name just a small few. Do not expect a lot of plot, just a few small linking scenes between amazing music performed by a talented band. Filled with great dancing from the dance troop. As well as ribbon dancers at some shows and fire eaters. Do be warned this show has a high number of sexual jokes, as well as scantily clad dancers and shirtless guitarists. Do not attend if you are easily offended. When you get there, settle back, get into it and do as many good shout outs as you can. If the cast hear you, they will respond. As much as Steve says otherwise, this is almost pantomime!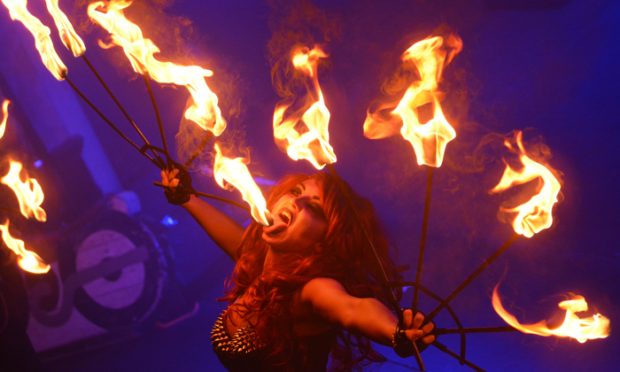 Roxy's Holding on For a Hero is exceptional. Slowed down to show real honest emotion of how desperate she is to be saved from where she has found herself. Needing so much for the Vampire Hunter to rescue her from this nightmare.
The whole cast works together amazingly, more like a family than performers. With how many years some of them have been touring together it is hardly a surprise the great chemistry seen on stage. I attended in the Nottingham Theatre Royal (as I do most years they tour) on the 26th. Home turf is always the best of the shows. This was one of the best performances of the show I have ever seen. The whole audience getting into it. You could tell the cast was feeling it as much as we were from centre stalls, giving more and more back to us. With a very well thought out, and well received Trump joke. Showing just how far the fear of him gaining power is spreading across our world. Steve is never scared to cross into controversial jokes or areas with his scripts. Although guys seriously, bring back the Abba joke!! We miss it!
If you haven't seen this show, then get the hell outta your chair and book tickets now! They are touring until March 2017! Tour details can be found here:
Things I have learned from watching the show for countless years?
You always end a concert with Bat Outta Hell!
and
Vampires are everywhere. They are your mothers, your sisters, your brothers, your cousins and most definitely your mother in laws
Pity the Baron, he has had thousands!
and finally
Monsters do not live under your bed, they live in your wardrobes!
Follow Steve and Vampires Rock here
https://twitter.com/SteveSteinman
https://www.facebook.com/Vampires-Rock-309069185823199/?fref=ts
You will never go just once!
100/10 stars, will be there every year :)
Sarah Beth James
Owner/Editor
@wickedwitchgal
UPDATED JAN 2017: I apologize for the mistake on two character names, it is not always easy to hear correctly. In no way does it reflect the talented actor. It has now been corrected. Thank you