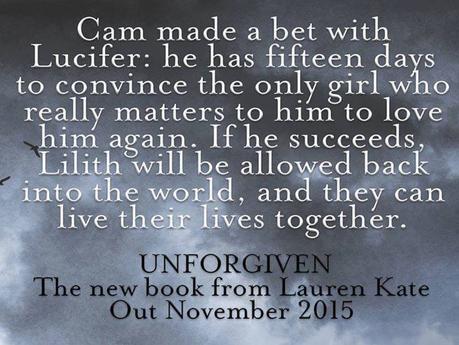 Lauren Kate best selling author of the Fallen series may have ended in Rapture, with Daniel and Luce meeting their happy ever after. Yet what happens to the other fallen angels that were his company for all those centuries? Now they don't have to watch over Luce as she spirals through her lives finding Daniel before dying in painful ways, how do they spend eternity? We already saw a few glimpses into their lives in Fallen in Love, a collection of short stories.
In this novel we explore Cam's past, the girl he loved and left behind. Who is also being returned on the wheel until their story is completed. He feels her in trouble, goes to find her. Even though he has been careful to avoid her as much as possible since he left before their wedding. Not trusting her enough to tell her why he could not be married in a church like she wished, after she refused to be married by the river.
That was three millennia ago, what Cam doesn't know is she made a deal with Lucifer. Ever since he spurned Lilith she has been trapped in a series of Hells as a punishment. Breaking her soul in as many ways as possible before Lucifer burns that world moving her to the next. Where the tortures start all over again for the devil's amusement.
When Cam discovers her wicked fate, he strikes his own deal with the devil. Leaving him with just 15 days to win her heart before that world ends. If he fails, then he will forever be damned to hell. The problem is Lilith doesn't remember him, all she does remember when she sees him is complete hatred for who he is.
Cam has to pull out every trick he has learned from Luce and Daniel if he has any hope to win this war. Even with the help of a few friends. Lilith is a wonderful singer, Battle of the Bands is coming up for Prom. Now if only he could get her into a band, singing, enjoying herself, happy. Then perhaps love will follow behind it all. He even tries to help her younger sickly brother to get into her good books.
However, many of the things he does just push her further away.
Leaving us with a nail biting rush to the finish line to see if it will be Cam or Lucifer who win this battle.
10/10 stars. I am in love with this book series.
Sarah Beth James
Editor/Owner
@wickedwitchgal