With the vile beast out there which is the Fox remake, I thought you might all enjoy a review of the classic production. With no gender bending, no miming and certainly Lady Gaga inspired versions of the Time Warp.
Of course again we start with the wedding, and Brad asking Janet to marry him. Leading us into the first classic song of the movie, 'Damnit Janet'. As Brad fumbles through asking Janet to marry him, dropping the ring. While later members of the cast lurk in the back ground. Whether they are meant to be their later selves watching Brad and Janet for a chance to derail that car journey seems to be the talking point of many Rocky Horror groups. If you look closely in the back ground you can see all sorts of hints of what will come. As well as a message of hope: 'Be Just and Fear not.'
A long car journey, a lot of rain, and a flat tire leave the pair exploring back to that castle we passed a few miles back. Always the greatest of ideas in the film world. We are lost, we broke down, so let's go and explore this creepy abandoned looking house! Even in the world of Scooby Do that never ends well. Bringing us into the second musical number 'There's a Light', this is one of my favourites in the entire show. I don't know if it is just me, but that thing on the roof behind Riff Raff as he sings, doesn't it look like the crystal dome??!
Brad seems accepting of what goes on around him, perhaps showing he is worldlier than his bride to be. Where as Janet when faced with the inhabitants of the house seems terrified of everything and everyone. Hardly a surprise when she faints at first sight of Frank in the iconic 'Sweet Transvestite' scene. Allowing Frank to introduce us to his relaxed life style of pleasure, as well as inviting us to meet his man he is creating.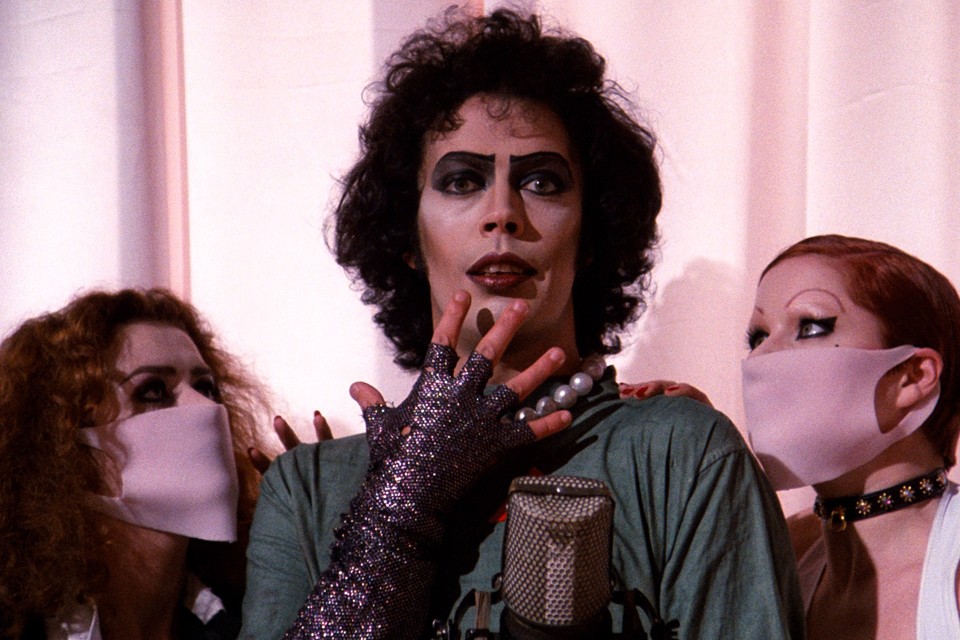 Leading us into Frankenstein's monster territory as well as introducing lost love Eddie. In the rock and role legend Meatloaf, rocking out until his untimely ending.Who Adam Lambert did great justice to in the remake, one of the only cast who did.
Why on earth Brad and Janet didn't run out screaming at this point, instead of going willingly to bed in this strange and dangerous place I will never know. Surely by now it was clear to them that no help was ever going to come from this avenue? Or did they just want to learn more? Were they willing for all the seduction that followed to happen? Or was it just because there wouldn't be a film if they had? Maybe we will never know.
What we do know is Richard O'Brien penned a musical that lives on even now, spawning remakes, and reinventions in every show from Glee onwards. The Time Warp has become a part of every single New Years Eve, Pride or Halloween party. The songs are loved and respected by the world over. This little production designed just for gay people, grew bigger than anyone could ever imagine. Still touring the country to date to sold out performances.
For Rocky virgins out there, don't be concerned if you don't 'get it' right away. No one does! It takes countless watching and re watching before you start to grasp at the meanings behind the production.
Just sit back, sing the songs, dance, laugh, love and enjoy. That's what Rocky Horror is all about.
10/10
Sarah Beth James
Owner/Editor.