Jackie. Jackie Bouvier. Jackie Kennedy. Jackie Kennedy Onassis.
The name for me conjures up numerous images of a woman with perfectly coiffed hair, a smart 60's style suit and little lace gloves on. It also conjures up the horrific image of a woman leaning across the back of a speeding car trying to grab hold of something that appeared to have flown past her.
When I go to see any film, I like to have an idea of what I am going to be watching; I look at reviews online, I look on the IMDB website and read trivia about the film as it helps me to enjoy it more. I went to the local cinema to see 'Jackie' with my mother, as she loves anything to do with the Kennedy's and after seeing the trailer, I thought the film would be about, a strong woman coming to terms with the very public death of her husband and how she continued on her life once he was gone. I thought it would be very upbeat, positive and complimentary of Jackie Kennedy, I was wrong.
The film focuses on 4 specific time streams, the day Jackie filmed her piece for TV showing off the White House, the day of the shooting of JFK, the week following that and the day that Jackie was interviewed.
My first impression of this film was that it was just 'not quite right' and the score played a big part towards this. The music started up whilst the screen was still black, and seemed so at odds with what I expected, it was sharp and jagged, not soft and welcoming. The score continued that way throughout the whole film and it was both disconcerting and off-putting, blaringly loud at odd moments, including when Bobby Kennedy had just seen that Lee Harvey Oswald had been shot. It added to the unsettling feel of the whole film.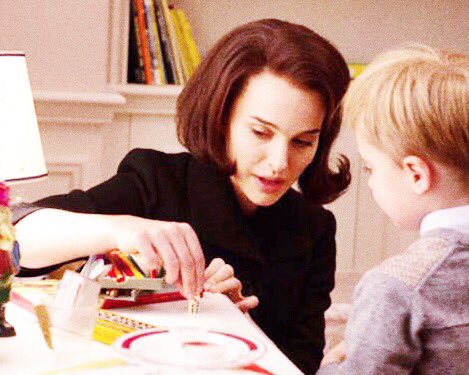 There are some fascinating moments in the film, the scenes between Jackie and her priest, played by the brilliant John Hurt, are wonderful, and it's hard to take your eyes off of the screen as Jackie is stood, still in the iconic bright pink suit splattered with her husband's blood, next to Lyndon Johnson being sworn in as president. She looks shocked as her world has just fallen apart, but for everyone else, life is going on. Her husband died just hours before and Natalie Portman portrays her brilliantly in this scene as she tries to comprehend that even though everyone is shocked and devastated at what has happened, life goes on.
Throughout the film, Jackie switches between being devastated – understandable as your husband has just been murdered in front of you - and seeming to be extremely manipulative – after stating in great detail how the bullet sounded as it ripped through JFK's head, she takes a drag on her cigarette and coldly informs the journalist "don't think for a second that I'm going to let you print any of that … and by the way, I don't smoke". Jackie talks an awful lot about "Jack's legacy" and comparing it to King Arthur's Camelot. I wasn't expecting the film to show such a side to her.
Several scenes in the film brought tears to my eyes, including where Jackie has to tell her two children that their daddy has gone to heaven, where she and the children walk behind the coffin and where her two deceased children are shown to be re-interred next to the grave of their father. It's a reminder that she had a real family, she was a young woman who lost her husband and two tiny children, and if it could happen to her then it can happen to anyone.
A week after first seeing 'Jackie', I can still not make up my mind as to whether it is absolutely brilliant and a fantastic piece of film, or whether it is just a bit too weird and off-kilter for me. However, it definitely left me wanting to find out more about this woman and the family that she married into. I think that in a year or so, after reading the subject more, I will re-watch this and it will be interesting to compare and contrast my thoughts and views on the film then and now.
Taking that into consideration, I would still encourage anyone to go and see 'Jackie', and let me know which side of the fence you sit on.
Vicky